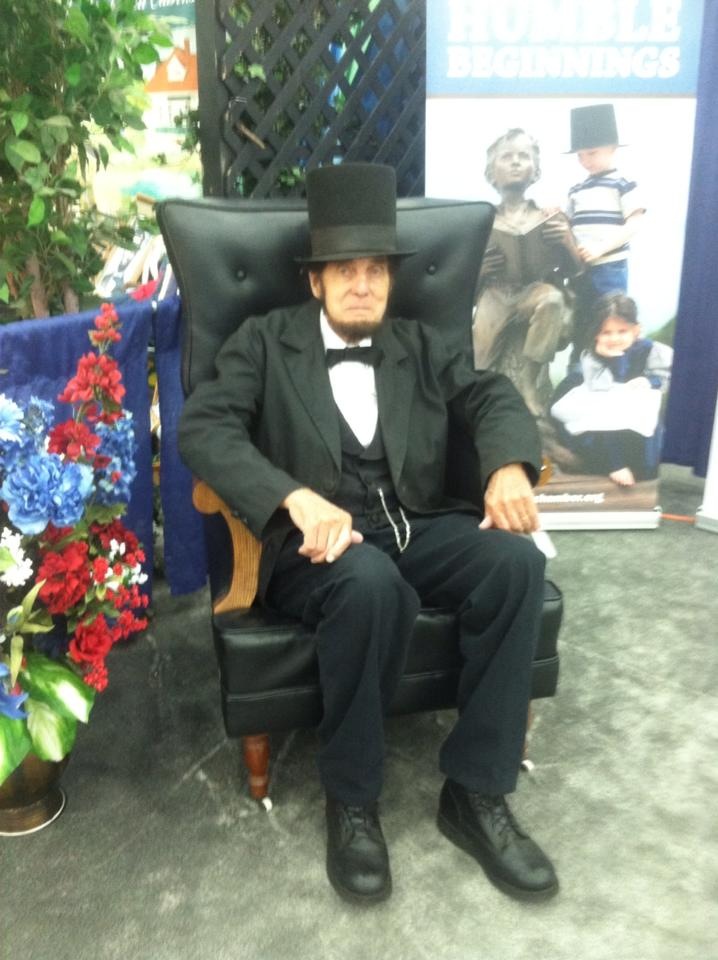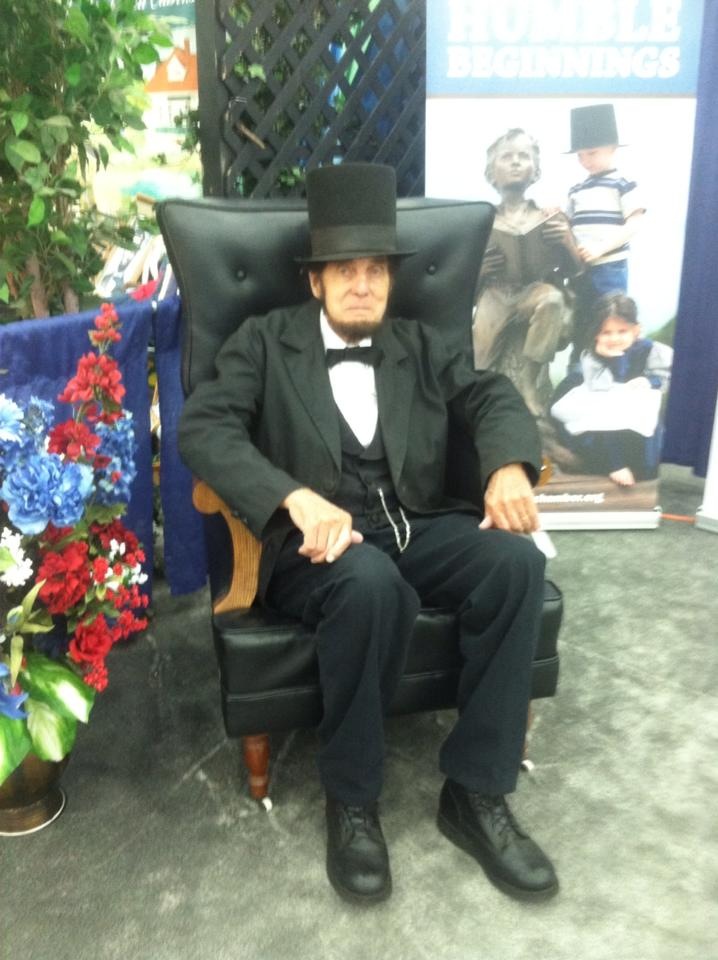 The State Fair is over and wow! What a fun time! This annual event gives us the perfect opportunity to showcase to fellow Kentuckians and other visitors the importance of Hodgenville/LaRue County.  Where else can you visit two national parks (Lincoln's Birthplace and Boyhood Home), and Kentucky's Official Lincoln Museum? Only here!  
Our booth at the Pride of the Counties was a huge success and it would not have happened without the help of many hands!  Thank you to the LaRue County Leadership Class 2012-2013 for taking this project of revamping our booth display.  This class included Kelly Clemens, Rip Collins, Angel French, Sarah Graham, Gina Lewis, Beth Roberts, John Schuler, and Melanie Wells.  Thank you to County Judge Executive Tommy Turner and Magistrates Tony Stewart, Ricky Whitlock, Dale Nunn, and W.L. Miller for helping us fund this endeavor and Bob Sims for your direction and advisement.  Thankful for the creative minds of Kenny Rambo and his team at Heartland Communications and Scott Goldberg at Progressive Services Printing for our fabulous three banner display and the amazing photos captured by Melanie Wells at Melanie Wells Photography.  Thank you to Clifford and Ruby Perkins for being our models at the Lincoln Statue, Alyssa Levee and Alex Morgan for being our models at the Boy Lincoln Statue, the craftsmanship of Bobby Akers for the miniature Lincoln cabin which little kids adored, the patriotic flower arrangement from First Baptist Church, and the Presidential Chair from Rooney Gray at MAM Candy.  Thanks to Josh Singer and Blazin Xpressions for their work on the tablecloth and shirt design for our volunteers which coordinated perfect with our display. 
This year we were able to give our state fair volunteers a free t-shirt to wear while working the booth with funds donated by the following sponsors: Campbellsville University, Elizabethtown Community & Technical College, Fort Knox Federal Credit Union, LaRue County Schools, LaRue Insurance, The Lincoln Museum, Lincoln National Bank, and Magnolia Bank.  Thank you to the following volunteers who took time away from their families and businesses to man our booth: Angel French, Bonnie Miller, Roger and Melanie Wells, Miss LaRue County – Patricia Gibson, Lloyd and Sue Tipton, Josh Singer, Dale and Cathy Morris, Sarah Graham, Chelsie Morrison, Charlie Setters, Karen Madriaga, David and Brenda Miller, Sue Crutcher, Kim Grant, Glenn and Gina Lewis, Beth Roberts, Melissa Adams, Rooney Gray, Joyce Tabor, Rip Collins, Carlene Gibson, Paul and Sarah Hornback, Rosanna Williams, Otis Ragland, Harold and Ella Garrison, Denise Skaggs, Brigitte Skaggs, Mary Ann Dean, David Harrison, Charles Wilson, Katie McDowell, Allison McDowell, Kathy Ross, Anthony and Maegan Hellmueller, Charles Joiner, Dan and Melissa Nalley, Olivia Nalley, Tanner Nalley, Parker Nalley, Susan Wise, Zack Wise, Tabi Smith, Ashley Yount, Pam Stephens and Amanda Stephens.  Dean Henderson and Diana Leathers helped organize the volunteer bags.  Also, huge thanks to Jim Sayre, our Abraham Lincoln, who made our booth come to life with his visits on Saturdays!  Additional thanks to the following members who donated items to Lincoln gift basket: Hinton's Orchard, LaHa's Red Castle, Lincoln Days, The Lincoln Museum, Lincoln National Bank, Magnolia Bank, MAM Candy, Melanie Wells Photography, Paula's Hot Biscuit, and The Sweet Shoppe.
The LaRue County Chamber of Commerce is in the business of promoting and supporting the commercial, industrial and civic interests of LaRue County. If you have questions about the Chamber or any of our programs, visit our website at www.laruecountychamber.org or call me at 270-358-3411.
Special thanks to our July and August renewal members for their continued Chamber support:  Blazin Xpressions, Bullfrogs and Butterflies Child Development, Paul Civils, Commonwealth Broadcasting, Nina Cundiff, LaRue County Schools, The Lincoln Museum, Vanity Hair, Allen's Air Conditioning, Kerr Office Group, LaRue Insurance, Lincoln Days, The News Enterprise, Annetta Rafferty, United Way of Central Kentucky, and Rita Williams. 
Welcome to our newest chamber member, Smokin' Em All BBQ and owners Jesse Smith and Louie Payne.