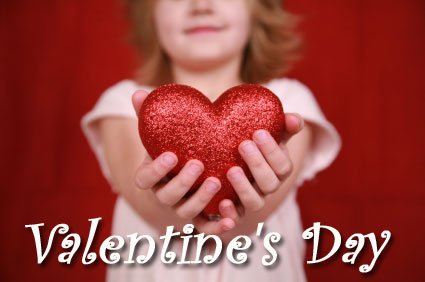 The month of January flew by in a hurry it seems.   And, now the month of February is here; the birth month of our great native son, Abraham Lincoln and Valentine's Day!
These last four years I have enjoyed making Valentines for family from my little girl, Alyssa.  Every year, I try to think of something different to do.  However, this year is different.  She is quickly growing up on me and will exchange valentines with her preschool class.
Are you trying to think of something different for your sweetheart for Valentine's Day?  You do not have to travel far for some great gift ideas, just come downtown.  Several of our chamber members have some sweet ideas for you!
To satisfy your sweet tooth or your sweetheart's, MAM Candy is taking orders for fresh chocolate dipped strawberries.  There is also Valentine suckers, milk chocolate peanut clusters, chocolate filled molds filled with peanut butter or caramel, and so much more.  If you go, make sure you ask Rooney about her latest creation—the tipsy turtles.
If you need more sweets and strawberries, The Sweet Shoppe has fudge dipped strawberries, gourmet apples of all sorts, fudge hearts and specialty fudge boxes for Valentine's Day.  I have not encountered a fudge flavor I disliked yet!
If you desire to surprise a special someone with personal photos of yourself, Melanie Wells Photography is offering special limited Valentine Specials and Vanity Hair has Valentine makeover specials!  Contact them for the fun details!
Looking for unique collectibles and gifts?  Almost Home is a place to stop for the Willow Tree collection, beautiful wind chimes and so much more!
Melt in your mouth chocolates, fun photography and makeovers, unique collectibles, and let us not forget jewelry!  Garrett's Jewelry Outlet has some amazing collections of jewelry that you will not find anywhere else.  If you need a rest after all this, relax in one of the Lazy Boy Recliners at Garrett's.
Hope these sweet chamber ideas are helpful and what a bonus – all downtown Hodgenville!