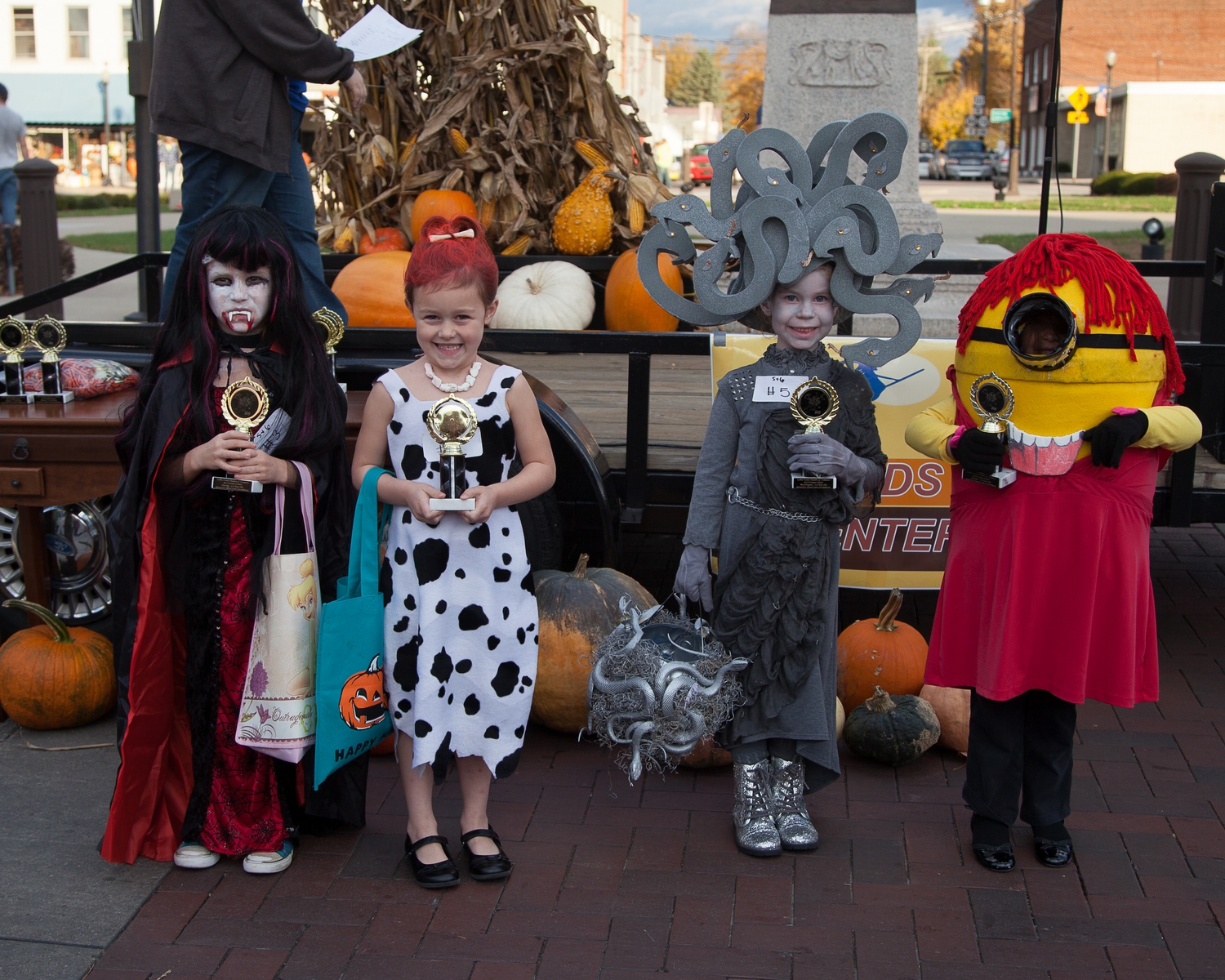 It has been busy times here at the Chamber as we have transitioned from the candy of Halloween to the trees of Christmas!
If you missed all the Trick or Treat excitement on the Square…WOW!  What a record crowd!  We had over 70 costumed kids and adults participate in our Costume Contest.  Special thanks to our judges this year Ricky Whitlock, Gordon Thomas, and Kyle Williamson.  They definitely had their work cut out for them this year.  Thanks to Marsha Duncan, our wonderful MC, and her volunteer high schools students who assisted us for the costume contest.  Thank you to the Awards Center in Elizabethtown for sponsoring the awards this year.  The additions of inflatables by First Baptist Church and food vendors, Makin Memories and Adams Family Foods, added more fun to the festivities.  A big thank you to all the businesses and organizations that participated and gave candy to our massive crowd; we could not have done it without you.  Thanks to the Lincoln Museum, Vanity Hair, LaRue County Herald News, the Law Office of Kyle W. Williamson, LaRue Insurance, Almost Home, James Whitlow Law Office, First Baptist Church, Sallee Taekwondo, Lincoln National Bank, Phelps Heating & Cooling, Magnolia Bank, Innerspirit Church, Hodgenville Clinic, LaRue County Health Department, Ron Mather Law Office,  South Fork Baptist Church, Tino's Barber Shop, Lincoln's Loft, LaRue County Protection & Permanency, Nationwide Uniform, Citizens Union Bank, Oak Hill Baptist Church, Fort Knox Federal Credit Union, Create It, Sweet Shoppe, Blazin Xpressions, LaRue County Sheriff's office, Steadfast Baptist Church, Campbellsville University, LaRue County Band of Hawks, Ruthie's Lincoln Freeze, City of Hodgenville, Family Worship Center, E-town Swim and Fitness, and Garrett's Jewelry.
The Festival of Trees was another fun and successful event.  The LaRue County Chamber of Commerce, The Lincoln Museum, and the Hodgenville Woman's Club thanks everyone who participated in the 8th Annual Festival of Trees.
Christmas at Creekfront will be lighting up soon!  Hope you can join the festivity as Light Up Hodgenville is this Saturday, December 7th.
The LaRue County Chamber of Commerce is in the business of promoting and supporting the commercial, industrial and civic interests of LaRue County. If you have questions about the Chamber or any of our programs, visit our website at www.laruecountychamber.org or call me at 270-358-3411.
Special thanks to our October and November renewals for their continued Chamber support: First Baptist Church, LaRue County Pork Producers, Wrights 210, Harned Auctioneers, Garrett's Furniture, Damon Talley PSC, Windstream, Garrett's Jewelry, State Farm Insurance, McDonald's of Hodgenville, Hosparus, Vision First, Canvas 31, and Sunrise Manor.