LaRue County Chamber, Its Members Prepare for 2012 Tourist Season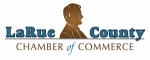 Check out our article that was in the LaRue County Herald this week:
As the economy continues to show signs of recovery, the LaRue County Chamber and its members are looking ahead to the 2012 tourist season with great enthusiasm.
"We think it's going to be the best year since the Abraham Lincoln Bicentennial," said Jessica Davis, Chamber executive director.
"The importance of tourism to our local economy cannot be understated.  It creates jobs, generates revenue and exposes our community to people from around the country and around the globe," Davis added.
According to Kentucky Tourism Industry, direct expenditures related to Tourism in LaRue County in 2010 exceed $5.1 million and there were 263 jobs in the county related to tourism.
The public's fascination with Lincoln's legacy drives tourism here.  The National Park Service reports that in 2010 the Abraham Lincoln Birthplace National Historic Park saw more than 177,000 visitors.
And The Lincoln Museum sees nearly 30,000 paid museum tours annually.  In 2011, the museum had visitors from 49 states and 37 countries. Museum Director, Iris LaRue attributes other nearby tourist attractions such as the Kentucky Bourbon Trail, the National Corvette Museum and Mammoth Cave with bringing even more visitors to LaRue County as one of several stops on their tour.
"These same visitors shopped in our stores, ate in our restaurants, filled gas tanks and saw everything that LaRue County has to offer," said Stefanie Rock, President of the Chamber's Board of Directors.
Pat Durham, chamber board member and owner of The Sweet Shoppe, credits 75% of his business to tourism and estimates seeing 15-20 visiting families each day.
The chamber is proud to be Hodgenville and LaRue County's welcome center and is taking that job seriously with capital investments in an updated website (www.laruecountychamber.org ) and an active social media presence on Facebook, Twitter and Flickr.
"We encourage all businesses to join us by putting out the welcome mat as we get ready for another successful tourism season in Hodgenville and LaRue County," said Davis.